With the ongoing effects of the recent global pandemic and the European energy crisis, companies have had to adapt to changing environments both internally and externally. The ability to respond quickly to these challenges has become a defining characteristic of successful businesses.
We recently partnered with Aiven to explore how digital native companies have evolved their data management practices in response to these challenges.
The "2023 state of data management solutions for digital natives" report offers insights into the evolving data management landscape and the strategies used by companies to thrive in today's business world.
We define "fast growth" as the approach of adapting quickly to change and innovating, which is crucial for companies that want to expand.
The data presented are based on a Q3 2022 survey of nearly 500 IT professionals at digital native companies worldwide.
What was happening in the past?
Firstly we'll see which systems companies stopped using and which ones they plan to use in the future.
We found that when adopting a new data management solution, professionals must consider all options. Replacements occur when other products offer better benefits, not because the replaced system failed.
Data model fit is crucial when choosing a product, while pricing is essential when replacing one, especially for small businesses. Large enterprises prioritize technical support.
Fast-growing companies prioritize service availability and disaster recovery capabilities, with 43% prioritizing this when adopting a data management tool.
Inadequate backup/snapshot functionality is a common reason for replacing a tool, with 19% of fast-growing companies citing it. Conservative-growth companies are less likely to replace tools based on this feature.
While data model suitability is at the forefront of reasons for adopting data management tools, pricing is often the primary factor when it comes to finding alternative solutions.
What is happening now?
What our analysis shows, for now, is that fast-growing companies prefer fully-managed services, while conservative-growth companies lean towards self-managed solutions, except for search technologies.
Interesting highlights:
On average, companies with an eye for scaling up are 16% more likely to use fully-managed services and are highly focused on search technologies and event streaming/message queue systems.

Faster-growing companies tend to be more likely to adopt open-source search technologies, with OpenSearch emerging as the most popular search technology among them.

43% of those who work for companies with fast-growth business models prioritise service availability and disaster recovery capabilities when adopting data management products.
What does the future of management systems look like?
56% of respondents are looking to adopt at least one new system in the near future.
Relational databases currently have the lead in adoption (78% of respondents), but the demand for streaming data is increasing with the reliance on artificial intelligence, and event streaming and message queues are on track to become the second most popular data management system type among digital native companies.
In terms of fully-managed services, security and performance are the most likely features to grow in importance, while pricing and cost optimization are the least likely.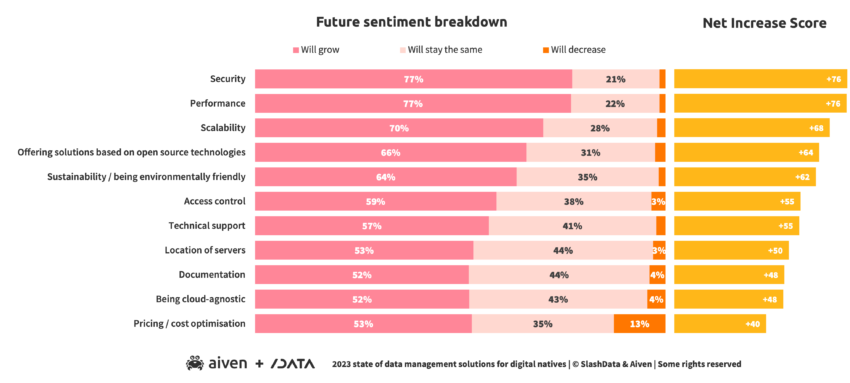 Fast-growing companies are more likely to adopt open-source data management products, while conservative growth counterparts are more concerned with scalability.
Sustainable practices are becoming more important when selecting a DBaaS vendor, with a higher likelihood of prioritizing reducing environmental footprint over-optimizing costs.
Adoption of data management tools?
We dedicated a special section of our report to measure adoption. We look at 9 data management tool categories and see what % of the respondents are currently using or planning to use each data management system type.
Does this align with your goals? Download the full free report to access all insights here.
A word from Aiven
Aiven's cloud data platform helps your business reach its highest potential by making your data work for you. It provides fully managed open-source data infrastructure on all major clouds, helping developers focus on what they do best: innovate and create without worrying about the limitations of technology. We like to think that Aiven is not only a cloud data platform but also an extension of your team. We are dedicated to helping you to succeed by removing barriers and finding the right solutions – with the help of the best data technology there is.
About SlashData
SlashData has been surveying developers for more than 17 years. We talk to 30,000+ developers globally, on an annual basis. Leading tech brands rely on our insights for their developer-facing strategy. Leverage the rich data and our deep insights to segment, grow and engage your developer community by addressing their needs – directly.